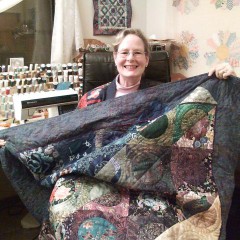 (First Report From My Trip Home to Seattle)
Patchwork quilting is popular in Japan as a way for people to create something original. Here in the original home of creating, America, quilts using Japanese kimono fabric and other traditional Japanese materials is gaining in popularity. My mother is an avid quilter, and enjoys collecting Japanese fabric and making quilts such as this one, 'Maru'. We have a couple of my Mom's wall hangings at Kamesei Ryokan, including one Hawaiian style quilt of some turtles (Kamesei's 'kame') hanging in front of the baths.
(シアトルの里帰りの第一リポート)
久しぶりに親の家に行ったら、母親がいま作っているキルトを見せてくれました。何と日本風!アメリカのキルトの世界の中で日本風な生地(着物など)がはやっているようです。亀清にも母親の作品が飾ってあります。お風呂の前に、ハワイイ風の亀(亀清の看板動物)の作品です。...
もっと読む