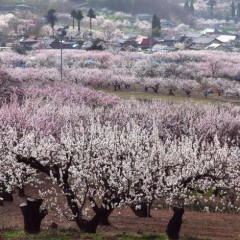 千曲市観光課からこの写真を頂きました。「杏の里」の杏は本当にこんなに綺麗ですか?と思われるかもしれません。言わせて頂けたら、写真より綺麗です。今年のあんずは4月3日から18日まで、そして10日前後が満開の予想です。戸倉上山田温泉(亀清旅館)から車で約25分です。
Chikuma City's Tourist Div. sent us this picture of the 'Anzu no Sato' apricot blossoms. You may wonder if the blossoms are as pretty as the picture. Let me tell you, they are even prettier! This year, the blossoms are predicted to be in bloom from April 3rd to the 18th, with peak bloom April 10th.
亀清旅館のHPはこちらClick here for Kamesei Ryokan website...
もっと読む