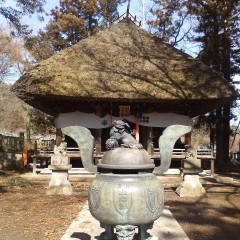 常連のお客様の依頼で上山田の知識時というお寺に連れて行きました。天気は晴れていましたし、周りの山がうんと綺麗で、そしてこのお寺の門と本館の作り、特に屋根、で歴史の素晴らしさを感じました。今度はちゃんとした写真機を持って、写真を沢山撮りたいと思いました。
A couple of regular customers asked us to take them to Chishikiji Temple. With the blue sky and the snow-covered mountains in the distance, the setting was spectacular. The temple itself, with its thatched roof main building and gate, is impressive with the sense of history and time. Such a photographic little temple!
亀清旅館のHPはこちらClick here for Kamesei Ryokan website.