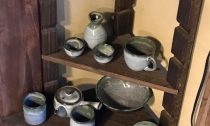 我が亀清旅館で新たな実践: 松代焼の販売。Our latest service for our guests: Selling Matsushiro-yaki pottery.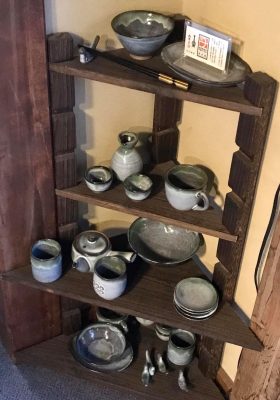 最近は当館の売店を少しずつ工夫してます。
今まで売っていた島屋さんの甘露煮と杏宝園の半生杏に加えて、
木の花の漬物と高村商店のしょうゆ豆、そして今度は松代焼。
お客様が喜んでくれるかな?
松代焼の販売を始まりました!
私たちが大好きな色合いの陶芸、松代焼は長野県の伝統工芸。近くの長野市松代地区で200年の歴史。
手頃の料金で、信州の旅のお土産に🎵
Our local pottery, Matsushiro-yaki, now sold here at Kamesei Ryokan.
We love the Aurora borealis-like wavy blue-green of the glaze. This pottery is a designated heritage craft of Nagano Prefecture and has been being made in Nagano City's Matsushiro district for 200 years.
Matsushiro-yaki would make the perfect souvenir for your trip to Nagano, and we offer it at reasonable prices.