我が千曲市の森「日本一あんずの里」の収穫が始まりました。今年は早いため、恐らく6月末まで続く。
杏狩りもジャム造り体験も楽しめます。
森地区は亀清旅館・戸倉上山田温泉から車で約20分。
佐良志奈地区の千曲川沿い杏畑は歩いて10分。
なお、亀清の客間「千歳」の庭にも杏の気があります。日本唯一杏狩りができる部屋!
生杏子を味わえるのに、今はチャンス!
6月16日も23日も土曜日の空室がまだ若干ありますので、是非にお越しください。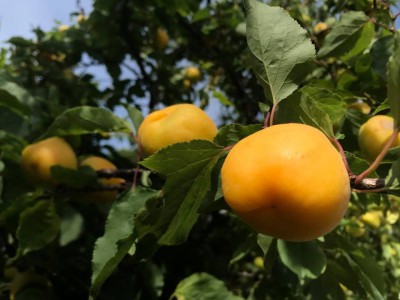 Our city's famous apricots are now in season, about a week ahead of normal schedule.  Mori aka "Apricot Village" is 20 minutes by car from our inn, but there is an apricot orchard along the Chikuma River a short 10 minute walk from us.  And even closer — one of Kamesei's guest rooms has an apricot tree in it's garden (pictured).  So this is the only place in all of Japan that you can do apricot picking from your room!
We still have a few vacancies for the last Saturdays of June, so come on up to Nagano and enjoy the tart taste of fresh-picked apricots!  (We expect the season to last through the end of June.)