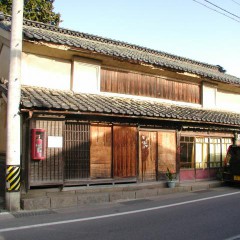 私は日本の古い町並みが好きです。妻籠宿や上田市の柳町とか、一昔の日本の街の雰囲気、その木造建物の木のぬくもりや、瓦の屋根、細かい作り、とにかく、格好良いです。
この千曲市の中で、稲荷山と言う土壁の蔵がまだ沢山残っている町があります。悲しいのは、その昔の建物はちょっとず津、消えています。どんどん壊せれている。写真の建物は売り出されているので、買う方がいなかったら、この120年前に作られていた家も、危ないです。誰か、買う人がいませんか?問合せは私へどうぞ。オーナーを紹介しますので。

I love Japan's old, historic street scenes. There's something about the earthen walls, clay roof tiles, hefty wooden beams, detailed construction and so on that is so cool. Places like Tsumago-juku post town in southern Nagano, and Ueda City's Yanagi-machi.
Here in Chikuma City, we have a district with lots of earthen walled storehouses, Inariyama. One by one, though, the old buildings are being torn down. This one in the picture has been put up for sale, and if no one comes forward to buy it, it is in danger of being torn down, too. How about? Is anyone interested in saving a 120-year old earthen walled house? Let me know — I can put you in touch with the owner!