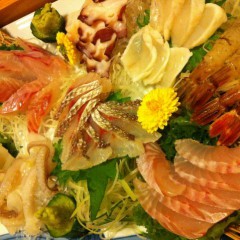 鶴岡旅のガイドはりんご農家の飛田さんでした。町興しで色々と一緒に仕事をしている仲間の飛田さんは大学生の頃に鶴岡にいたので、今回は数十年ぶりの訪問だった。漆間太郎っぽいガイドでしたが、美味しいお寿司屋さんにちゃんと連れてくれました。
鶴岡のお寿司と奥田シェフのお料理、
その間は海沿いの湯の浜温泉と1300年の歴史のある湯田川温泉でお風呂を頂きました。
贅沢な旅でした。
日本と良いよね。
On this trip to Yamagata Prefecture's Tsuruoka City, our guide was apple orchadist Tobita-san. One of my fellow civic improvement buddies, Tobita-san lived in Tsuruoka for college. This was his first time back in several decades, but even with his Rumplestiltskin-like guding, he managed to take us to a sushi shop for some of the best sushi I've ever had.
Tsuruoka sushi and Okuda Chef's lunch,
Mixed in with hot spring baths at seaside Yunohama Onsen and 1300-year old Yutagawa Onsen,
It was a magical trip.