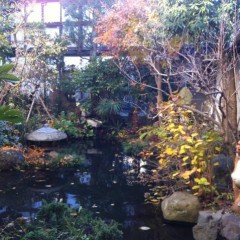 亀清旅館の中庭の秋の写真です。この庭は四季の変更を一番よく表現するのではないかと思います。亀清旅館のHPを見る皆様の「今」の天気や季節の様子を見せる為に、ライブカメラを設置したいと考えています。

自己満足かな?

お客様へのおもてなしかな?

どう思いますか?

Pictured is Kamesei Ryokan's naka-niwa garden and koi pond. I feel this garden best expresses the change of the seasons here at our inn. To give visitors to our website a real-time feel of the weather and season, I am thinking of setting up a live camera feed of the garden onto our website.

Would that be vanity, or a useful tool for guests?

What do you think?