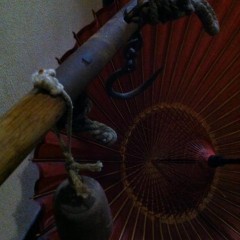 17日の稲荷山蔵開き市に次男を連れて、行ってみました。稲荷山の昔からの土蔵からこういう宝物が出てくるか、期待していました。

予想通りでした。

この面白い道具があった。品物の重量を量る「はかり」。昔は商人は歩いて回って、品物の量り売りの場合はこういうはかりを使っていた。

はかりはキログラムではなく、貫だそうです。
1貫=3.75kgだそうです。尺貫法は明治から1959までメートル法と同時に利用されたようで、それ以降は少なくなって、1966に完全にメートル法に変わったそうです。

500円で歴史をゲットしました。

ただ、どこで飾るか、困っています。とりあえず、亀清旅館のお風呂の入り口にプッチ資料館がございますので、そこで展示する様にしています。

背景に写っている和傘も稲荷山蔵開き市で購入しました。亀清の貸切風呂へ行く入口に置く様にしました。雨の日に貸切風呂へ歩くお客様が使える様に。これも500円!

もうすでに来年の蔵開き市を楽しみにしています。

On the 17th, I dragged our #2 son to Inariyama for the antiques sale. I was looking forward to seeing what kind of treasures would come out of the nooks and crannies of Inariyama's old storehouses, and I wasn't disappointed.

Pictured are a couple of the items I picked up. Any guess what that item with the hook is? It's a portable scale. Traveling salesmen used to sell some objects by weight and used this kind of scale to measure, not kilograms, but "kan". (1 kan = 3.75kg). Apparently 'kan' were used along side kilograms from the Meiji era until 1959 until being phased out and totally replaced by the metric system in 1966.

A bit of history for only 500 yen!

And the Japanese umbrella in the background was also 500 yen. I put it at the entrance to the path to Kamesei's family bath, for guests to use in the rain.

After discovering these great treasures, I am already looking forward to next year's antiques sale at Inariyama!