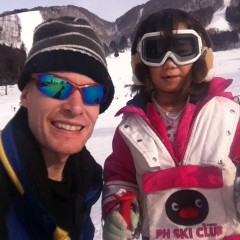 子供達は学校が休みの金曜日。
仕事はたっぷりあるけど、
天気は良いし、
長野に住んでいる限るでは年一度ぐらいスキーしないとルール違反だし、
仕事をさぼって子供達とスキーしに行ってきました。
長男Andyがノザワスキー場の39度の壁を滑りたくて、
私はスキー後の温泉を楽しみにしていて、
野沢温泉に行きました。
長男がソロで滑りながら、自分が二男と娘に下のキッズパークでスキーを教えた。(教えるほどできないくせに。)
Andyは「山の頂上から海が見えた!」と騒いで、コースと言うコースを滑って、大満足。特に娘は「またやりたい」と言ってくれた。
長野は素晴らしいスキー場もあって、ええ所やな。
The kids had a no-school Friday.
The weather was postcard-perfect.
Lots of work to do, but….
If you live in Nagano, you gotta go skiing at least once during the winter.
So the kids and piled in the car, and went up to Nozawa Onsen Ski Resort. Andy wanted to try the 39-degree "Wall", and I was looking forward to a soak in Nozawa's onsen after skiing. So Nozawa was perfect.
While Andy tackled the Wall and the rest of Nozawa's courses, I taught #2 son Kenny and our daughter Misaki how to ski at the Kids Park at the bottom. Andy was excited to have seen the ocean from the peak, and had a blast exploring all the various runs. Meanwhile, especially Misaki got hooked on skiing and wants to try it again.
Nagano Prefecture, with so many fantastic ski areas, is such a great place to live!