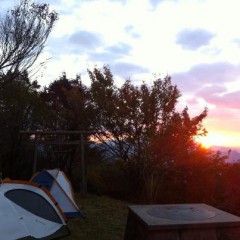 子供達と今年の最後のキャンプで、また冠着山の頂上まで登ってテントを張って一泊しました。ただ、考えてみれば、ハロウィーンの夜でした。冠着山の別名が「姨捨山」である。捨てられた姨さん達の幽霊は出てこなかったけど、嚢が飛んだり、イノシシの鳴き声が聞こえたり、満月の光が霧の中で流れてきたり、十分怖かった。
そして、寒かった。朝は4℃だった。
それでも、親のキャンプの又よい思い出が出来た。来年のキャンプシーズンはまた楽しみにしています。
注:戸倉上山田温泉から一番近いキャンプ場が冠着山の麓にある大池キャンプ場。車で約15分。
The kids and I went camping for one last time this year. We hiked up to the top of 1252-meter high Kamuriki Mountain, popped our tents and spent the night. Come to think about it, it was Halloween night. Probably not the best spot to camp, as this mountain is nicknamed 'Obasute-yama', the legendary spot where old ladies were taken to be thrown away.
While we didn't see any ghosts of old ladies, we did see an owl flying, and heard the cries of some wildboars, and saw the moonbeams from the full moon streaming through the mist. It was plenty scary.
And plenty cold — 4 Deg Celsius in the morning.
But it was all worth it, as the kids and I had another memorable campout together.
NOTE: The closest official camping place to our onsen town Togura-Kamiyamada is at Oike Pond, a 15 minute drive.