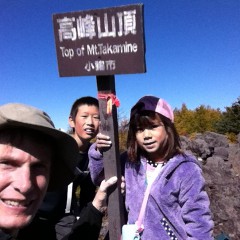 この秋の晴れていて暖かい日に子供達を連れて、浅間山連峰の高峰さんを登りました。2092mの高峰山で落葉樹の葉っぱがのほとんどが既に落ちていたけど、唐松のハリは見事な黄金色となっていました。秋の空の空気が澄んでいて、富士山も見えました。
信越高速道路の小諸ICで下りて、浅間サンラインからチェリーパークラインを通って約1000mも登って、標高2000mの車坂峠に辿り着きました。そこから片道1時間ぐらいな緩やかなアップ・ダウンを通って、高峰山頂に着きました。うちの5歳の美咲ちゃんも楽ちんで登れた。
とにかく、その紅葉の色、エンドレスの眺め、空きの空気、最高な親子ハイキングだった。
On this fine autumn day, I took our kids for a hike to the top of Mount Takamine, one of the peaks in the Asama Mountain range. At the 2092-meter peak, the deciduous trees had already dropped their leaves but the larch trees were in there golden yellow peak. And the sky was so clear we could see all the way to Mount Fuji.
From the Komoro interchange on the Shin'Etsu Expressway, you take the Asama Sun Line highway, turning off to climb the Cherry Park Line road up, with about 1000 meters of elevation gain to Kurumasaka Pass, at around 2000 meters. From there, it is a 1-hour hike with gradual ascents and descents, to the peak of Takamine-yama. Even our 5-year old Misaki had no problem with the climb.
The fall colors, the endless view from the top, and the crisp autumn air made for a perfect family outing.
車坂峠にある浅間山麓国際自然学校では、とうざんやネイチャーガイド、冬はスノーシュー、通年は竹クラフトや豆腐作り体験等のプログラムがある。
The Asama International Outdoors & Nature School at Kurumasaka Pass offers mountain and nature guides in the green season, snowshoeing guides in the winter, and bamboo craft, tofu-making and other programs year-round.
浅間山麓国際自然学校Asama International Outdoors & Nature School