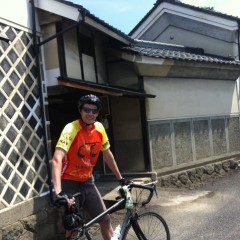 戸倉上山田温泉を出て、千曲川沿いのサイクリング道路を通って、稲荷山の蔵の街と細い道をうろうろして、シルキーでお好み焼きを食べて、またサイクリング道路で川辺と周辺の山々の景色を楽しみながら帰る。
それが私の一番好きなサイクリングコース。
先日はベルギからの留学生を連れて、二人で自転車で通ってきました。彼はレンタサイクルで。私は稲荷山の土壁の蔵を見るのが好きだ合ったが、彼はそれより、それぞれの住宅の庭を見るのが好きだった。なるほど、その楽しみもあるのだ。
亀清旅館でレンタサイクルおよびサイクリングマップを提供しますので、どうぞ、楽しんでください。
Depart our onsen town Togura-Kamiyamada,
Ride the bicycle path along the Chikuma River to the Inariyama historical district,
Ooh and Aah over the classic earthen-walled storehouses and wander the narrow alleys,
Stop for lunch at okonomiyaki restaurant Silky,
Then ride back along the bike path enjoying the beautiful river valley and the scenic mountains on either side.
That's my favority bicycle course. We briefly hosted an exchange student from Belgium and I took him with me for a ride to Inariyama. Me on my road bike, he on one of our town's rental cycles.
I really enjoyed seeing the old warehouses, but the exchange student liked seeing the various gardens more. Hmm, everyone has their own parts of Inariyama they enjoy.
Here at Kamesei Ryokan, we have rental cycles as well as a cycling map (including the Inariyama course) for your enjoyment.