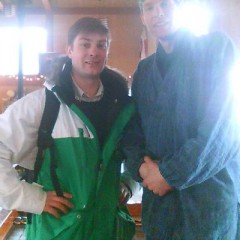 日本語を習っているTomさんはUKから来て、野沢温泉でスキーしたり、妻籠・馬込の間の中山道を歩いたりするために長野にお越しになりました。亀清に二泊もお泊りになった。その開いている一日にどうするか、色々なアドバイスをしながら、彼の要望を聞きながら、彼がとにかくこの一日は遠く行かないで、この町と触れ合いたいと。そこで、りんご農園をやっている英語を喋れる友人に連絡を取って、一日のインターンを手配しました。農家の飛田さんは作業に手伝ってもらえて、国際交流も出来て、嬉しかったし、Tomさんはこの日本の田舎の生活をたっぷり味わえて、嬉しかったです。夜は私抜きでお神楽の練習にも行かれて、そこでも盛り上がったようです。私は会議があって、参加が出来なかった。あとで、お神楽の会長さんに「大丈夫でしたか?」と聞いたら、皆が外国じんにもう慣れたから、楽しかったと。(それは私にとっては重要なポイントです。亀清旅館もそうだし、お神楽もそうですし、この戸倉上山田温泉のインバウンドもそうです:タイラーより大きくなって欲しいです。)

まあ、Tomさんほど熱心でこの地に入りたい人はめったにしかいないと思うからこういう一日インターンは頻繁に出来ないだろうけど、要望があれば喜んで対応は出来まっせ!

Tom came from to Nagano from the UK, to go skiing at Nozawa Onsen as well as to walk to Nakasendo road from Tsumago to Magome. In between, he spent 2 nights here at Kamesei Ryokan. For that middle day, he and I discussed various options. As I listened to him, I realized he was tired of trains and travelling, and wanted to connect with the local town here. So I called up my buddy Tobita-san who runs a local apple orchard and speaks a bit of English, and set up a 1-day internship for Tom. Tobita-san was grateful to have the help, and he enjoyed the cross-cultural sharing. Tom-san told me he thoroughly enjoyed immersing himself in the local culture. That night, the two of them even went to the okagura lion dance practice together. Due a meeting, I couldn't attend. Later I asked the troupe leader if things went okay without me, and he said everyone is used to foreigners, and that they all had a blast. (That's actually key for me. It is my desire that Kamesei Ryokan as well as the lion dance guys and Togura Kamiyamada's "Inbound" efforts are bigger than just me!)
I doubt we'll have very many guests that are as keen as Tom was for connecting with the locals, but should the occasion arise, I'll be happy to set up another 1-day Intern for anyone else in the future!